Nokia N95 mobile phone – First impressions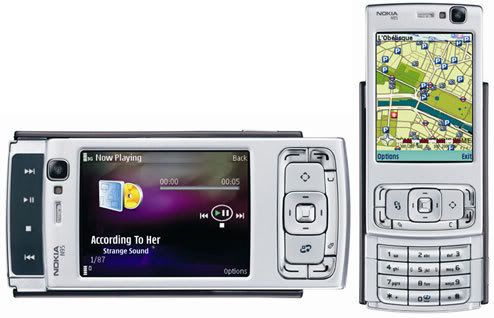 I've had this phone since Monday 16th and have been giving it a thorough testing of which will lead to quite a large review coming soon to eMagi. It is also my first Nokia mobile since previously I have had Sony Ericsson's so the transition period has been tricky at times. Enough ramble though, what about the mobile?
The first thing you will notice about the phone if you have used it, is the weight – Its light. Very light considering how powerful the mobile actually is. I will save the full rundown for the up and coming review however in terms of smartphones this one is certainly up there with WiFi, 3D Chip, built in GPS, Mini Map, Symbian OS9.1 3rd Edition, 5 Megapixel camera with Carl Zeiss Optic lens and much more.
The only thing that is a bit under specified is the battery at a low 950 mAh battery… With the use of WiFi, 3.5G (HSDPA) and the internal GPS it can eat up the bars pretty quickly, however the first impressions are very positive indeed and I'm warming to it.
The first part of the review will concentrate on the specifications and its interface using the new Symbian OS9.1 3rd Edition. Subsequent features will then focus on the 5 Megapixel camera, the built in GPS and Navigation systems, WiFi use and applications and much more. Look forward to it!