Formula One 2007 Season Preview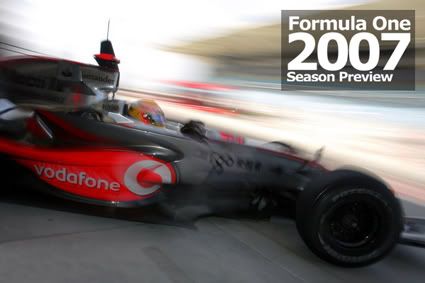 A new Formula One season is upon us and with new drivers joining new teams; this year's championship could be the most unpredictable in the 56 years of the sport. Seven times world champion Michael Schumacher has left Formula One after announcing his retirement late last year. His presence will be sadly missed on the grid this season but two likely drivers could take over the role as the greatest – Fernando Alonso and Kimi Raikkonen. Both superstars have switched teams for 2007, with the double world champion joining Team McLaren Mercedes and the Finn joining Scuderia Ferrari respectively. It will be fascinating to see how well these two drivers will get on racing in their new cars, the MP4-22 and F2007 in this 17-race calendar.
In addition, this year's grid will look very different to 2006. Most of the top teams are welcoming new drivers, including some top driving talent from the likes of Lewis Hamilton, Heikki Kovalainen and Adrian Sutil.
So what's new in F1 2007? What are the new rules and regulations and who will come out on top? All this will be revealed in this in-depth preview to the 2007 FIA Formula One World Championship.
NEW LOOK TO FORMULA ONE
The biggest differences this year compared to the past couple of seasons of Formula One racing will be the absence of Michael Schumacher. After 13 years at the top, the successful German will be resting at home with his family and friends, instead of pushing to the absolute limits in his Ferrari. How will the drivers and fans feel without the seven times world champion on the grid?
Formula One 2007 will certainly feel strange without Michael competing as he was the benchmark for all drivers to achieve. His commitment, dedication and talent was unquestionable and his impressive race results will remain in the record books for years to come.
But we must look ahead instead of reminisce the past success of Michael Schumacher and as the new season approaches, it times to look at what's new in this year's championship.
Four British drivers will be on the grid this year, giving British fans a reason to cheer. Lewis Hamilton, Jenson Button, David Coulthard and Anthony Davidson will perform to their best abilities this season.
The cars themselves certainly look very different compared to the last couple of seasons. The colours and livery design definitely defines Formula One 2007.
Even though tobacco sponsorship is banned in the sport due to pressure from the World Health Organisation, the Ferrari team is still being sponsored by a well-known Philip Morris brand of cigarettes… Though the message is more subliminal. The Renault team have already cause many Formula One fans a form of distress with what appears to be a 'conflicting' and 'branding crisis' with a new sponsorship deal with ING. The familiar blue and yellow corporate colours of the French manufacturer remain but with it, the new Dutch insurance company has created a disgusting look to the car. But the most surreal lively has to be the Honda F1 team. The Japanese manufacturer has abandoned all forms of advertising, with a new environmentally themed concept – a picture of the planet earth. This unusual approach is to create awareness of the climate change that the world is facing. But it feels quite ironic to market the issue on a sport seen as polluting and anti-green.
RULE CHANGES
A number of changes to both the sporting and technical regulations have been made by the FIA (the sport's governing body) for the 2007 Formula One season.
Engines homologated and used during the last two races of 2006 must now be used during the 2007, 2008, 2009 and 2010 seasons. Although this move, designed to cut development costs, has been widely described as an 'engine freeze', some limited development work will be allowed. This will, however, be strictly controlled by the sport's governing body.
The two-race engine rule will no longer apply to Friday practice sessions. This means any driver starting a meeting with a fresh engine will not be penalised for an early failure. It also means drivers may opt to use alternative engines on Fridays and save their race engines for the remainder of the weekend.
All motor engines will be limited to 19,000 rpm (revolution per minute) to ensure reliability and performance.
There will be a slight change to the Grand Prix weekend format, with Friday's two practice sessions extended from 60 to 90 minutes each. Third cars will no longer be allowed, but all teams are now permitted to run one alternative test driver in each Friday session. The alternative driver must be nominated beforehand and may use either of the team's race cars.
All the teams will be racing on Bridgestone tyres, as the sport's governing body tempts to curb the increasingly expensive tyre testing that takes place during the season. But the main consequences with this change to a single tyre manufacturer for 2007 will be the end of the tyre war.
The Japanese rubber will only supply four main compounds for a racing weekend and these are: super-soft, soft, medium and hard. These four have been set for the entire season – so there will be no tweaking of the compounds from race to race to optimise them. So a medium tyre used for Melbourne will be the same specification, as it will race in Interlagos for example. In addition to these four dry tyres, Bridgestone will also supply a wet (or intermediate as it's commonly known) and extreme for wet weather races.
Each driver will receive 14 sets of dry tyres. Four of these will be used only for the two Friday opening practice sessions but must be returned back to Bridgestone before Saturday practice begins. Then on Saturday, each driver is allocated ten further sets of tyres for the remainder of the racing weekend. Each driver must then return one of each set of compound to the Japanese supplier prior to qualifying, leaving him with eight sets of tyres – which will be split equalling between prime and option – for the qualifying session and the race itself.
On top of this, each car must use both compounds during the race. The concept of racing two different tyres of rubber is to create more excitement and aid overtaking.
In 2007, safety car regulations have been modified to prevent drivers diving for the pits the minute the safety car comes onto the circuit, and to stop backmarkers interfering with the leaders during a race restart. No car is allowed to enter the pits until the field is bunched up behind the safety car and before the safety car returns to the pit any lapped car running between cars on the lead lap must overtake those cars and the safety car before taking up their correct position at the back.
As for safety in the sport, a GPS marshalling system – involving a cockpit light display of flag signals in each driver's car – is introduced. This will allow Race Control to alert drivers to potential hazards more effectively.
All cars must also now be fitted with a medical warning light just ahead of the driver's cockpit. This is to provide rescue crews with an immediate indication of the severity of the accident and is connected to the FIA data logger.
The qualifying session will remain unchanged for 2007, with three segments in a space of an hour. In sessions one and two, the six slowest cars will be removed from proceedings with session three becoming a shoot-out for pole position fought between the ten fastest cars.
Right we covered the basis of the new Formula One season, so let's turn our attention to the drivers and teams.
THE FORMULA ONE GRID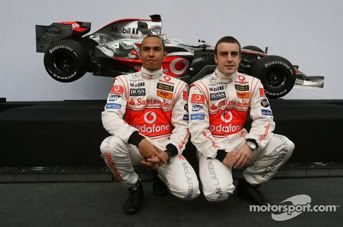 Team: Vodafone McLaren Mercedes
Chassis: MP4-22
Engine: Mercedes-Benz FO 108T
Web: www.mclaren.com
2006 results: 3rd, 110 points
Car number 1 – Fernando Alonso (2006 results: 1st, 134 points)
www.fernandoalonso.com
Car number 2 – Lewis Hamilton (2006 results: n/a)
www.lewishamilton.com
The new Vodafone-sponsored McLaren Mercedes team are hoping to succeed by winning the drivers and constructors titles this season, ending a bleak six-year drought when the team last won a championship with Mika Hakkinen. The double world champion Fernando Alonso will be proudly driving the chrome car hoping to win his third successive drivers' title. It will be interesting to see how he will get on with team boss Ron Dennis and his new engineers there. Can the Spaniard achieve his dream of winning the crown for a new team? As for his team-mate, GP2 champion Lewis Hamilton joins McLaren after winning the Formula One feeder series in style. He will face a difficult task in racing against the current champion (and the other drivers) but I believe he will do quite well this year. Wins and possibly the championship will be on the agenda for Dennis's team and drivers.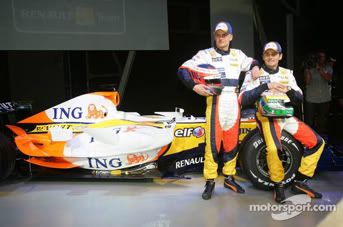 Team: ING Renault F1 Team
Chassis: R27
Engine: Renault RS27
Web: www.renaultf1.com
2006 results: 1st, 206 points
Car number 3 – Giancarlo Fisichella (2006 results: 4th, 72 points)
www.giancarlofisichella.com
Car number 4 – Heikki Kovalainen (2006 results: n/a)
www.heikkikovalainen.com
All change for the defending champions. Not only is their star driver Fernando Alonso off racing for rival McLaren, but key personnel have modified the team structure for the new season. After being beaten by the Spaniard in the last two years, Giancarlo Fisichella will step into the number one role and will lead the French manufacturer to championship success. But can the Italian cope in this pressured situation? Some believe this will be his final chance to win the title and I really hope he can sustain the challenges ahead by beating the others and his new team-mate Heikki Kovalainen. The Renault test driver has been promoted to the race seat as a replacement over Alonso, but does he have the commitment and talent to win races for the team? Meanwhile in the technical department, Pat Symonds – the director of engineering, who played a crucial role in the race weekend when deciding pit stop strategies – will take a step back and fulfil his duties back at the factory. In addition, Alonso's old race engineer, Rod Nelson, has also left the team to join Williams. But can all this halt the momentum for the team as it seeks to defend its two titles? Let's wait and see.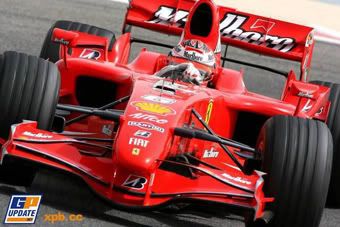 Team: Scuderia Ferrari Marlboro
Chassis: F2007
Engine: Ferrari 057
Web: www.ferrari.com
2006 results: 2nd, 201 points
Car number 5 – Felipe Massa (2006 results: 3rd, 80 points)
www.felipemassa.com
Car number 6 – Kimi Raikkonen (2006 results: 5th, 65 points)
www.racecar.net/kimi
Massive changes at the Scuderia, not only have Michael Schumacher and Ross Brawn left, but the team philosophy might be affective. How will it cope? Well, we have Kimi Raikkonen driving in the red car and certainly he is the fastest driver in the sport, but how dedicated is he in moving the team forward like the outgoing seven times world champion? Michael would usually hang around very late with his mechanics and engineers after driving the car to discuss set-up and race strategies, but in Kimi's case, the Finn would rather turn up, drive and leave immediately afterwards… It will be fascinating to see how committed the Finn will be when he drives for Ferrari, especially alongside Felipe Massa, his new team-mate. The Brazilian has the advantage of knowing the team after racing for the Italians for one season and with his two recent wins last year, he has the momentum to continue that winning success. Massa could be the champion this year if he doesn't make any mistakes. Ferrari remain the favourites not only for its strong driver line-up but they have a good understanding with Bridgestone tyres. Wins and titles are on the cards for Maranello-based squad.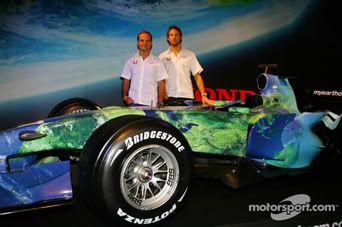 Team: Honda F1 Racing Team
Chassis: RA107
Engine: Honda RA807E
Web: www.hondaracingf1.com
2006 results: 4th, 86 points
Car number 7 – Jenson Button (2006 results: 6th, 56 points)
www.jensonbutton.com
Car number 8 – Rubens Barrichello (2006 results: 7th, 30 points)
www.barrichello.com.br
The new environmentally themed Honda will certainly be eye-catching on the grid, but can the team improve since winning in Hungary? It will be interesting if it can achieve more race wins but judging by the winter testing performance, the new Honda RA107 seems to be struggling. Nevertheless, the team are optimistic for the season ahead with both Jenson Button and Rubens Barrichello hoping to add more success for Japan. Jenson in particular will be looking for race victories after winning his debut Grand Prix at the wet and wild race at Hungary. As for Rubens, he is under pressure to perform. The Brazilian had a trouble time at that team last year and had to adapt his driving style after spending several seasons driving a Ferrari. I believe Rubens will be on the ball this time around and will be challenging Jenson for top honours in 2007.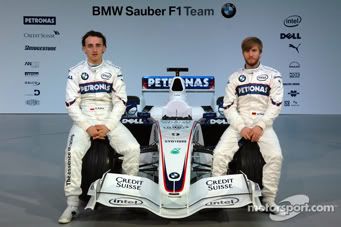 Team: BMW Sauber F1 Team
Chassis: F1.07
Engine: BMW P86/7
Web: www.bmw-sauber-f1.com
2006 results: 5th, 36 points
Car number 9 – Nick Heidfeld (2006 results: 9th, 23 points)
www.nickheidfeld.com
Car number 10 – Robert Kubica (2006 results: 16th, 6 points)
www.kubica.pl
The new F1.07 BMW-Sauber has been the star of winter testing with faster lap times than even the McLarens and Ferraris. But can it translate this sort of pace consistently over the 17-race championship? It will be a superb achievement by Mario Theissen, BMW motorsport director, if this is possible but realistically, I reckon podium finishes are the more likely targets. Still, the driving talent of Nick Heidfeld (or 'Quick Nick' as he is known in the Formula One paddock) and Robert Kubica will push the team forward and could even embarrass the Toyota team with more points finishes.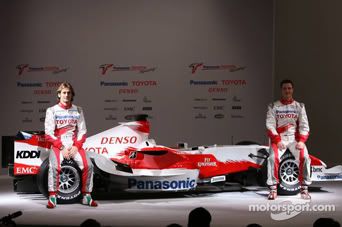 Team: Panasonic Toyota Racing
Chassis: TF107
Engine: RVX-07
Web: www.toyota-f1.com
2006 results: 6th, 35 points
Car number 11 – Ralf Schumacher (2006 results: 10th, 20 points)
www.ralf-schumacher.de
Car number 12 – Jarno Trulli (2006 results: 12th, 15 points)
www.jarnotrulli.com
Year after year, the second largest car manufacturer in the world boldly claims to win races and championships, but after five years in the sport, Toyota has yet to achieve the ultimate prize. The Japanese team may have spent an estimated $418.5 million in 2006, but in terms of fans support, it proves to be the least popular… So what can Toyota do to improve this year? Well, Ralf Schumacher is approaching the end of his three-year contact so he is expected to produce the goods. As for Jarno Trulli, he needs to shake off that tag of being super quick in qualifying but so damn slow in the race… If the new Toyota TF107 is competitive then Trulli will do the job well, if not then expect to see a train of cars behind the Italian…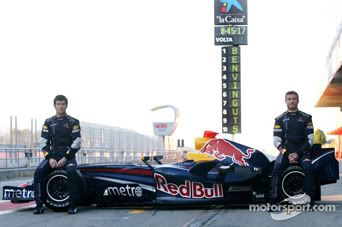 Team: Red Bull Racing
Chassis: RB3
Engine: Renault RS27
Web: www.redbullracing.com
2006 results: 7th, 16 points
Car number 14 – David Coulthard (2006 results: 13th, 14 points)
www.davidcoulthard-f1.com
Car number 15 – Mark Webber (2006 results: 14th, 7 points)
www.markwebber.com
Formula One star designer Adrian Newey has created a beautifully looking racing car for the team and even though it looks like a McLaren painted in the energy-drink colours, the most worrying aspect is it doesn't look quite so quick on the race track (in testing at least) then sitting still in the pit lane… In addition, David Coulthard and new signing Mark Webber are complaining a lack of comfort in the tight cockpit. Nevertheless, these two top-line drivers can achieve the possibilities of point finishes for Red Bull Racing this year. David Coulthard is now the oldest driver on the grid (he turns 36 on March 27) and yet, he is the most experienced and is still motivated to drive the team forward. His new team-mate, Australian Mark Webber 'rejoins' his old Jaguar team (Red Bull Racing was initially Jaguar back in 2004) and after two frustrating seasons at Williams, Webber is determined to succeed with a more competitive car.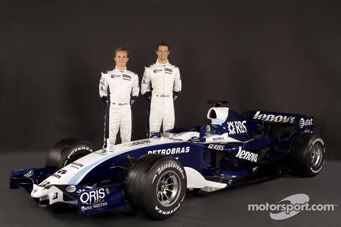 Team: AT&T WilliamsF1 Team
Chassis: FW29
Engine: Toyota RVX-07
Web: www.williamsf1.com
2006 results: 8th, 11 points
Car number 16 – Nico Rosberg (2006 results: 17th, 4 points)
www.nicorosberg.com
Car number 17 – Alexander Wurz (2006 results: n/a)
www.alexwurz.com
A once great team in the sport has fallen from grace since the split from BMW… But Williams have a firm desire to come out stronger than ever and this year, are staging to return to glory days. But will it happen? Tricky to say to be honest… I would love to see this – as Williams is my favourite team in the sport – but realistically it can only hope for top ten finishes. The new Toyota engine will certainly help, as it is the same specification as the Japanese works team. If it can out-qualify and out-race the main team, then it will be become very embarrassing for the Japanese. But on the other hand, if the new motor fails to move Williams forward up the grid, then we shall see the end of this independent team… Whatever the outcome, the drivers won't be the weakest part as far as driving talent is concern. Yes, Nico Rosberg had a trouble season in the car last year despite a fantastic first race in Bahrain. I have high hopes he can perform better and with Alex Wurz as his new team-mate, the experienced Austrian can offer a helping hand. It's great to see Alex back as he has some unfinished business when he last raced in Formula One six seasons ago…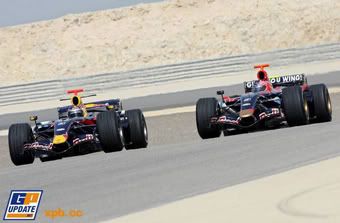 Team: Scuderia Toro Rosso
Chassis: STR02
Engine: Ferrari 057
Web: www.scuderiatororosso.com
2006 results: 9th, 1 point
Car number 18 – Vitantonio Liuzzi (2006 results: 19th, 1 point)
www.liuzzi.com
Car number 19 – Scott Speed (2006 results: 20th=, 0 points)
www.scottspeed.com
The Red Bull B-team might be racing a chassis very similar to the main Red Bull A-team, but Gerhard Berger (Scuderia Toro Rosso's co-owner) claims that the car is built and outsourced from different companies. The on-going row between the legibility of Scuderia Toro Rosso and Super Aguri's car has caused angry from Williams and Spyker regarding the use of customer chassis. It will be interesting if the team can register any championship points despite running a Red Bull chassis powered by a Ferrari engine. As for the drivers, Vitantonio Liuzzi and Scott Speed are under pressure to perform as neither produced what can be called as sparklingly performances in 2006.
Team: Spyker F1 Team
Chassis: F8-VII
Engine: Ferrari 057
Web: www.spykerf1.com
2006 results: 10th=, 0 points
Car number 20 – Christijan Albers (2006 results: 20th=, 0 points)
www.christijan.com
Car number 21 – Adrian Sutil (2006 results: n/a)
www.adriansutil.com
After the buyout of Midland F1 late last year, the Spyker F1 team have a challenging task ahead for 2007. Even though Mike Gascoyne heads up the technical department at Spyker, the first couple of races will be a big struggle. The bright orange car will realistically be racing against the Super Aguri and Scuderia Toro Rosso, who are both running the chassis shared option. Spyker are strongly against the idea of customer cars and feels that these two teams are not complying to the rules. Despite this, I think both Christijan Albers and rookie Adrian Sutil – who was superb in last year's Friday practice sessions – will do a solid job.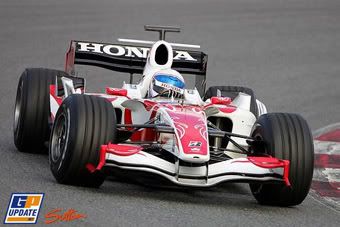 Team: Super Aguri F1
Chassis: SA07
Engine: Honda RA807E
Web: www.superaguri-f1.com
2006 results: 10th=, 0 points
Car number 22 – Takuma Sato (2006 results: 20th=, 0 points)
www.takumasato.org
Car number 23 – Anthony Davidson (2006 results: n/a)
www.anthonydavidson.com
When Aguri Suzuki announced to the world's press in late 2005 about setting a new Formula One team for the 2006 championship, everyone thought this was impossible. But in the end, the popular Japanese team made it on the starting grid and even though the chassis was based on a 2002 Arrows car (bought by the ex-Minardi principal Paul Stoddart who purchased them when the Arrows team went into receivership) – the fact that Takuma Sato set the tenth fastest laptime in the season's closing Grand Prix at Interlagos was an amazing achievement. For 2007, Super Aguri will have the opportunity to race last year's works Honda as their car, despite the protest from Williams and Spkyer regarding the chassis share option. Nevertheless, it will make the team more competitive but how far behind will they still be compared to the front-runners like Ferrari, McLaren and Renault? As for the drivers it is refreshing to see Anthony Davidson back in a race seat after five long years on the sidelines. His reunion with his old Formula 3 team-mate Takuma Sato, will be fascinating and I believe Anthony will come out on top.

THE CALENDAR
The Formula One circus will be racing around the world for the next eight months, starting with the Australian Grand Prix in Melbourne on March 18. The San Marino and European Grands Prix are missing from the 17-race calendar but its great to see the Belgian Grand Prix back in the championship. The German Grand Prix will take place at Nürburgring this year, while in 2008 at Hockenheim (it will then alternate between these two circuits yearly). And after twenty years, the Japanese Grand Prix will move from the Honda-owned Suzuka Circuit to Toyota's rebuilt Fuji Speedway, a circuit that Formula One has not raced at since 1977.
Round 1 Australian Grand Prix
Melbourne, March 18
Circuit length: 3.295 miles
Lap record: 1 min. 24.125 secs (Michael Schumacher, 2004)
The season-opening Grand Prix returns back to Australia and this will be the home race for Mark Webber in the Red Bull Racing. Webber will be determined to score a good result in front of his home fans.
Round 2 Malaysian Grand Prix
Sepang International Circuit, April 8
Circuit length: 3.444 miles
Lap record: 1 min. 32.233 secs (Juan Pablo Montoya, 2004)
After a three-week gap between the first race and the second, the Formula One circus will be racing on perhaps the hottest race of the year. It will be a real test of engine reliability considering the two-race engine rule.
Round 3 Bahrain Grand Prix
Bahrain International Circuit, April 15
Circuit length: 3.366 miles
Lap record: 1 min. 30.262 secs (Michael Schumacher, 2004)
The only Grand Prix to be held in the Middle East, but in 2009 we might have two races in this region with the Abu Dhabi Grand Prix. In the meantime, the Bahrain event will be a test for the drivers in another hot and humid race.
Round 4 Spanish Grand Prix
Circuit de Catalunya, May 13
Circuit length: 2.875 miles
Lap record: 1 min. 15.641 secs (Giancarlo Fisichella, 2005)
This is Fernando Alonso's home event and the Spaniard will be seeking another race win in front of the passionate crowd. Not really an exciting track to be honest and traditionally, this is most boring race of the year as the drivers' cover thousands of miles testing here during the winter.
Round 5 Monaco Grand Prix
Circuit de Monaco, May 27
Circuit length: 2.075 miles
Lap record: 1 min. 14.439 secs (Michael Schumacher, 2004)
The most famous and glamorous race track in the world. The Monaco Grand Prix is every driver's dream of winning. Ayrton Senna and Michael Schumacher have won this event five times and it is the best in terms of seeing Grand Prix cars in action on the narrow streets of the Principality.
Round 6 Canadian Grand Prix
Circuit Gilles Villeneuve, June 10
Circuit length: 2.710 miles
Lap record: 1 min. 13.622 secs (Rubens Barrichello, 2004)
The Circuit Gilles Villeneuve always provides top-quality entertainment. The fast flowing circuit may contain chicanes but at least the drivers hit top speed down the back straight. Michael Schumacher has an incredible record at this track, having won seven times.
Round 7 United States Grand Prix
Indianapolis Motor Speedway, June 17
Circuit length: 2.605 miles
Lap record: 1 min. 10.399 secs (Rubens Barrichello, 2004)
As part of a double-header in North America, the Formula One cars make a return back to the Brickyard. Following the farce 'race' back in 2005 in which all the Michelin teams pulled out due to safety fears, it will be interesting if the American public still enjoy Formula One racing as it often struggle in the US market.
Round 8 French Grand Prix
Magny-Cours, July 1
Circuit length: 2.741 miles
Lap record: 1 min. 15.377 secs (Michael Schumacher, 2004)
The oldest race on the Formula One calendar and surprisingly the Circuit de Nevers just doesn't create the sort of racing we expect as the Formula One circus return back to Europe from North America. Not my favourite track in my opinion, but it's Renault's home race and expect them to do a good job in front of the French fans.
Round 9 British Grand Prix
Silverstone, July 8
Circuit length: 3.194 miles
Lap record: 1 min. 18.739 secs (Michael Schumacher, 2004)
The British Grand Prix is the home race to eight of the eleven teams on the grid. Lewis Hamilton, Jenson Button, David Coulthard and Anthony Davidson will have a fantastic reception from the enthusiastic crowd and all four drivers will be aiming to please with great racing at the former RAF airfield.
Round 10 German Grand Prix
Nürburgring, July 22
Circuit length: 3.199 miles
Lap record: 1 min. 29.468 secs (Michael Schumacher, 2004)
The German Grand Prix will not be taking place at Hockenheim this year, due to a financial situation over circuit cost to run the event. Instead, the Grand Prix will take place at Nürburgring. This is Toyota and Ralf Schumacher's home race, so huge expectations is upon them to do well.
Round 11 Hungarian Grand Prix
Hungaroring, August 5
Circuit length: 2.722 miles
Lap record: 1 min. 19.071 secs (Michael Schumacher, 2004)
The tight and twisty circuit doesn't often provide great racing but back in 2006, the first ever wet race, it was an entertaining and spectacular race. Jenson Button finally won a Grand Prix despite starting in 14th position!
Round 12 Turkish Grand Prix
Istanbul Park, August 26
Circuit length: 3.32 miles
Lap record: 1 min. 24.770 secs (Juan Pablo Montoya, 2004)
The Istanbul Park has become a drivers' favourite with the super-fast and challenging Turn 8. Probably the best track designed by Hermann Tilke as it rewards the drivers with a wide range of demanding corners.
Round 13 Italian Grand Prix
Autodromo Nazionale di Monza, September 9
Circuit length: 3.600 miles
Lap record: 1 min. 21.046 secs (Rubens Barrichello, 2004)
The only track where the cars run low downforce due to the long straights – in which they travel around 230 mph. Monza is Ferrari's home race and with the passionate tifosi (Ferrari fans) by their side, a race win is always a joyful occasion in Italy.
Round 14 Belgian Grand Prix
Circuit de Spa-Francorchamps, September 16
Circuit length: 4.335 miles
Lap record: 1 min. 45.108 secs (Kimi Raikkonen, 2004)
The Spa-Francorchamps circuit makes a welcome return to the racing calendar, to the delight of the drivers and fans. It is the longest track on the championship and it provides all kind of wonderful challenges for the driver, especially Eau Rouge (a sweeping left-right-left collection of corners taken flat out).
Round 15 Japanese Grand Prix
Fuji Speedway, September 30
Circuit length: 2.835 miles
Lap record: 1 min. 14.30 secs (Jody Scheckter, 1974 – on the old track)
The new home of the Japanese Grand Prix will be at the Toyota-owned Fuji Speedway, after twenty years at the Honda-owned Suzuka International Circuit. I suspect the drivers will miss the challenging S Curves and the fantastic 130R at Suzuka and feel that Fuji doesn't offer any reward for the driver with slow and medium speed corners. Even though it features the longest pit straight in Formula One (1.5 km), the track layout and remote setting doesn't capture the excitement or enthusiasm.
Round 16 Chinese Grand Prix
Shanghai International Circuit, October 7
Circuit length: 3.387 miles
Lap record: 1 min. 32.238 secs (Michael Schumacher, 2004)
The Shanghai International Circuit is one of the latest tracks designed by Hermann Tilke, offering a wide variety of interesting corners. Contrary to popular belief, the resemblance of the track layout with the Chinese character "shang" (上), which means "above" or "ascend", was not intentional, but rather coincidental. Rubens Barrichello's last Grand Prix victory was at the inaugural Chinese Grand Prix in 2004 driving for Ferrari.
Round 17 Brazilian Grand Prix
Autódromo José Carlos Pace, October 21
Circuit length: 2.677 miles
Lap record: 1 min. 11.473 secs (Juan Pablo Montoya, 2004)
The last race of the 2007 season and the scene of an emotional Grand Prix win from local hero Felipe Massa last year. As the final Grand Prix of the year, expect a party atmosphere, as hopefully the drivers 'and constructors' title will be settled here after a long and competitive battle.
PREDICTIONS FOR 2007
Now that we covered all the aspects in this year's Formula One championship, it's time to make some predictions. Who do I think will succeed in winning the drivers' title come season's end? Which out of the Formula One rookies will perform better? And which team will do well in 2007? First, let's answer the first question as to who will become world champion. If the McLaren is fast, reliable and consistent, then Fernando Alonso will become the latest driver to win three titles in successive years. He will join the likes of Jack Brabham, Niki Lauda, Nelson Piquet, Ayrton Senna and Jackie Stewart with three championship wins. But if the McLaren proves unreliable and keeps breaking down, expect to see the Spaniard voicing his opinion strongly. I believe Alonso's biggest worry for the championship could be Kimi Raikkonen in the Ferrari. The Finn is well known to be super fast in a race car and if the Ferrari proves to be the pace setters (and it seems to be judging by the testing in Bahrain) then expect to see world championship glory for Kimi. But there might be an outside chance than his team-mate Felipe Massa might take the title for himself, as the Brazilian has the full backing and support from the Italian manufacturer after scoring some impressive results last year.
What about the Formula One rookies? There will be four drivers making their full-season debut and it will be fascinating which of these 'fantastic' four achieve the better results. Lewis Hamilton will be the one most keenly followed by fans and the media. Not only is he the first black driver in Formula One, but his achievements through the lower ranks of motor racing (karting, Formula Renault, Formula 3 and GP2) has been impressive. So the expectations for 2007 for Hamilton will be huge… I reckon he will do well and might even score a race victory. For a driver who has covered over 25,000 km (or 15,500 miles) in testing Heikki Kovalainen will have the most on-track experience in the Renault. But how well can he translate those testing miles to his race-craft? If he can beat his team-mate Giancarlo Fisichella, then the Finn has done a good job as a replacement for the out-going champion at the French team. Adrian Sutil could be the next rising star from Germany and after setting some impressive lap times during last year's Friday practice sessions, the German could be the one to watch at Spyker. And last but not least, it is Anthony Davidson. After five long years on the sidelines, the Brit will make his first full season driving for the Honda B-team. If he can beat his old Formula 3 team-mate Takuma Sato in a qualifying and in the race, then expect to see other race teams to sign him up. Davidson has the talent and I would love to see him driving in a more competitive car than a Super Aguri (no disrespect to the popular Japanese team).
And finally, which team will do the job this season? This is tricky to answer as this year's championship proves to be the most unpredictable for years. But if I have to be honest, I reckon McLaren and Ferrari will be the main pace setters and winners this year. Renault seems to be struggling adapting to the Bridgestone tyres during testing, and if the situation doesn't improve once the racing begins, the defending champions will suffer the lost of performance against the others. Honda will be aiming for the top step of the podium once again, but does the car have the speed to beat the top two? BMW-Sauber might be the dark horses for race wins as the new F1.07 seems very quick in testing but it's a whole different ball game compared to the actual racing. Top eight finishes are the realistic targets for the team. Toyota? The least popular team will struggle in my opinion. The new TF107 doesn't seem to have the latest design trends and I suspect it won't even make it into the top ten. What about Red Bull Racing? Adrian Newey's car looks great but it doesn't seem to be fast. Williams could bounce back from a disappointing 2006 season and with a Toyota engine powering the FW29, it could even be ahead of the Japanese works team. As for Scuderia Toro Rosso, the best it can hope for is that the two drivers not to make any mistakes. Spyker? A very difficult period is in store but the team should improve mid-way through the season. And what about Super Aguri? Running last year's Honda cars will definitely improve but the team will still be at the back.
Image courtesy from GPupdate.net and motorsport.com