Quantum Of Solace preview special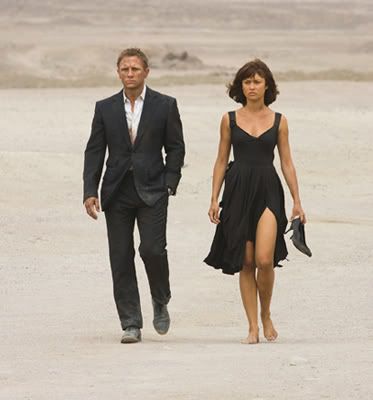 James Bond is back! After the critical success of rebooting the franchise with Casino Royale back in 2006, Daniel Craig returns as the secret British agent.
In the 22nd Bond film, 007 battles Dominic Greene (Mathieu Amalric), a member of the Quantum organisation posing as an environmentalist, who intends to stage a coup d'état in Bolivia to take control of its water supply.
Bond seeks revenge for the death of Vesper Lynd and is assisted by Camille (Olga Kurylenko), who also wants to kill Greene.
Directed by Marc Forster, Quantum Of Solace continues the gritty look with action-packed sequences. Though, in my humble opinion, it feels like another Bourne movie…
The latest trailer to Quantum Of Solace looks really intense and I love the bit when Bond and his opponent are falling through a glass ceiling, followed by the part with the flying bike (so similar to Bourne).
See the latest trailer below or for those who like HD, click on this link.
And if you're wondering what the James Bond theme sounds like, then here's your opportunity to see R 'n' B star Alicia Keys and rock star Jack White (from The White Stripes) performing Another Way To Die.
http://www.youtube.com/watch?v=kC0EqmXOUnQ
The music video shows Keys and White roaming the traditional featureless Bond landscape, although with more wavy lines and less naked silhouettes than usual! I am not too fond of this song as the pair are trying to out sing one another! Plus you can't hear the lyrics that well but I do like the bass guitar part.
I much prefer this spoof version by Joe Cornish (from Adam & Joe fame) as it sounds more fun and fits the feel of the James Bond movies.
http://uk.youtube.com/watch?v=TMoJRLStD9c
Quantum Of Solace hits your local cinema at the end of the month (October 31). Be sure to catch Bond's latest mission!