Manga Review: Fairy Cube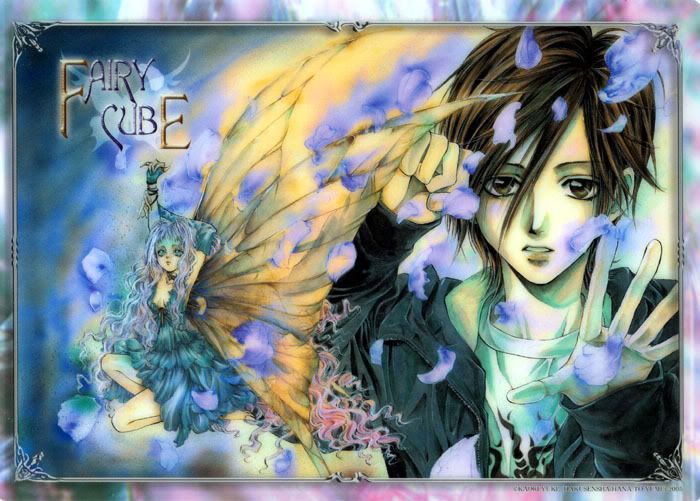 By Kaori Yuki
Ian Hasumi is special, he can see fairies. He can also see his twin Tokage who no one else can see. Tokage hates Ian and will do anything to get him into trouble. On Ian's back were once a set of beautiful wings, however all that is left now are the scars where his father burned the wings off so the child could not fly away like his mother did. In the city a series of murders occur known as the Fairy Murders because the victims have their backs split open with blood spurting out in the shape of wings. When Ian's childhood friend Rin returns to the city, the past begins to unravel and he begins to realise who he is and the mystery behind the Fairy Murders.
When most hear the name Kaori Yuki the first thing that pops into their head is her best selling series Angel Sanctuary. Many of her stories have gothic undertones and feature dark characters and forbidden relationships, e.g. Setsuna and Sara in Angel Sanctuary (Brother and Sister). Her art style is unique and extremely detailed and beautiful. Both of her artbooks have been released officially in the U.S. in hardback. She has admitted in the past that she believed her art influenced by western paintings and music from her earlier years. She also confesses to having a strong love for Alice in Wonderland and often uses reference to Alice in her own stories.
One thing Kaori Yuki can never be accused of is being original, her stories are always unique, detailed and filled with twists and surprises. Fairy Cube is no exception. Whilst all her mangas have one thing in common they are all dark, the stories are far from similar. Quite often you can make comparisons between her characters but for an artist who provides a huge cast in most of her mangas that's no surprise (almost all artists are guilty of this anyway).
Although Angel Sanctuary is her best and most hyped work to date, I found myself much more interested and engrossed in Fairy Cube. A lot more compact spanning only 3 volumes rather than 20. One would be forgiven for thinking that Karoi cuts out on character development, you would however be mistaken; all the main cast are well rounded and interesting. The story is compelling and well paced jumping right into the middle of the story right away and throwing in a major twist about half way through the manga, which turns the whole story upside down. Although the twist takes completely by surprise it is this twist that gives us the premise to our story.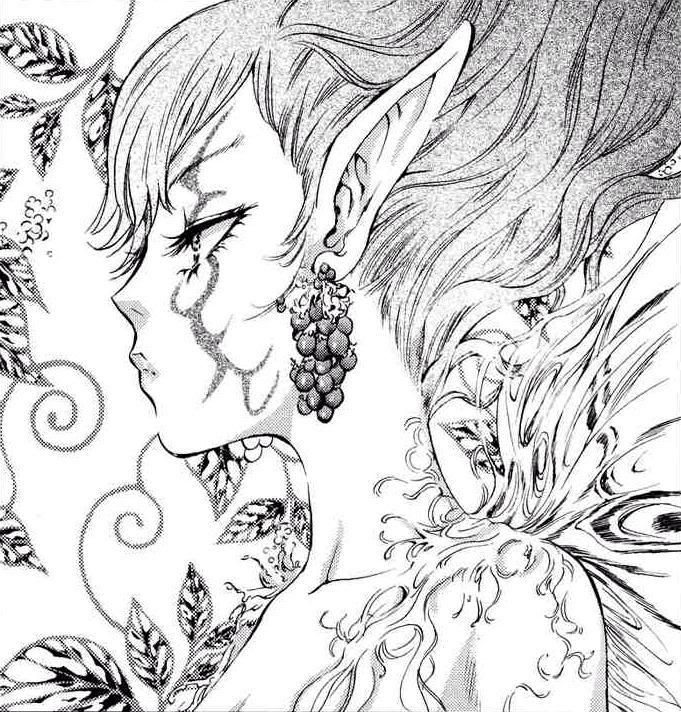 The art is absolutely breath taking, no detail is spared and the standard does not drop at all throughout the whole of the first volume. Just taking a minute to look at and admire the art gives you a new appreciation for her work, the time and effort that must go into each and every one of her drawings is unimaginable. The characters are all attractive and yet dark and disturbing where they need to be, the backgrounds and settings are outstanding.
Overall a superb quality manga, story, art and character development a plenty. Whilst aimed at the shojo audience much look her other mangas Fairy Cube doesn't ever feel like a typical girl story, with the majority of the focus placed on the action and story and the romance developed nicely and subtly on the side lines.
This is one of my personal faves and something I'd definitely recommend to my friends.
Art – 10/10 Perhaps this is just my opinion, when I see her artwork it never falters to be amazing and inspiring. It does nothing but make a great story perfect.
Story – 9/10 I won't give it top marks, it is only 3 volumes sadly and there is a lot to taken, it would have done better perhaps being spread out over a couple more volumes, however that may have slowed down the pacing and made it less interesting, guess we'll never know.
Characters – 8/10 I'll say 8 for Character development, there is only so much you can squeeze in, in 3 volumes but Kaori does a jolly good job of it with the room she's given herself. The main characters are well taken care of, but there are a couple of sub characters I would have liked to have learned a bit more about… maybe in future volumes I'll get my wish!